Can't believe it's been 20 years…..9/11/2001
I was 41 and had the day off. I watched tv at home on the West Coast; several of those planes were scheduled to return to California. One of my colleagues was scheduled to fly on 93 from Boston, where he'd been visiting his mother. She didn't want him to leave, she had a "feeling" so he postponed his flight until later.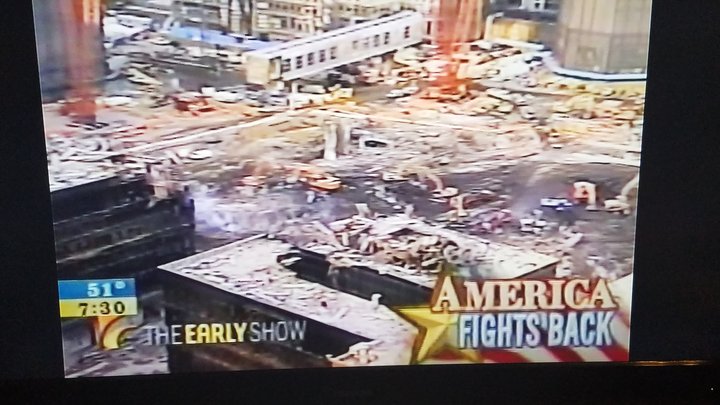 A screenshot from the remote camera I operated for The Early Show in Nov. 2001
[@329500,uncalled4] I saw the time lapse video earthcam put out a few days ago, worth watching
[@868864,HannahSky] Interesting. Got a link?
[@329500,uncalled4] [youtube=https://www.youtube.com/watch?v=nLqFZNfTmU4]
I was your age(now). I hope I never have to go through anything like that again. Actually, I hope no one has to.
[@868864,HannahSky] Yes. I actually played a wedding reception, of all things, yesterday. If you're curious, check that post out. It was supremely moving, but in a hopeful way.
[@329500,uncalled4] such a curious day for a wedding
[@868864,HannahSky] It was rescheduled 3 times due to Covid. I imagine they got a deal on that date! There were a plethora of remembrances happening simultaneously with police everywhere.
Yes it's hard to believe. I've been watching a 9/11 documentary on Netflix with my 21 year old son. He never experienced it and it's hard for me to explain exactly how deeply it impacted us all, but the documentary is doing a good job of showing him a glimpse of how traumatic it was
And would уоu not feel sad for the millions of people killed by уоur соuntry as well ?
yeah to think a cold blooded businessman in his 70's would kill 2k people for 4b$ is shocking
This message was deleted by its author.
---
2648 people following
I Still Remember September 11
Personal Stories, Advice, and Support
New Post
Hobbies
Politics
Group Members