Domestic Violence 911 Calls Are Increasing. Coronavirus Is Likely to Blame.
Yes, that's why I threw mine out when he said he wouldn't isolate with me just before all this kicked off properly, he was happy to leave because he didn't want to isolate and thought he was making some kind of point and still thinks I'm gonna need him lol.

Hopefully the police will remove as many abusers as possible and issue conditions they can't re-enter the homes because of cv19 risk with jail time if they do.

Abusers abuse women and children because it's low risk. Up the risk to "go in the house and it's jail" and it may give some breathing space to their victims.
@
Paliglass
Feminism encourages women to leave their husbands, kill their children, practice witchcraft, destroy capitalism and become lesbians.
Pat Robertson
----------------------------------------------------------------------------------
hahahahahahahahaha All the more reason to be in support.
@
BetweenKittensandRiots
in the UK there were radical feminists who left their male children and husband's and lived in female only communes.
Margret Thatcher destroyed them. They were getting quite powerful and a concern.
She destroyed them by infiltrating them with "flowery feminists"
That's a sad truth for you. Radical feminism was destroyed by a woman.
I think true feminism is choice. Relationships need to be negotiable and not expected norms.
Anyway I'm more upset about Equador at the moment.
@
Paliglass
I'm not with the radicals honestly I think some of the women only communities were a bit nutty.
[i]
At least I am somewhat more moderate than them.[/i]
The coronavirus is [b]NOT[/b] likely to blame.

[b]MEN[/b] are to blame.
@
beckyromero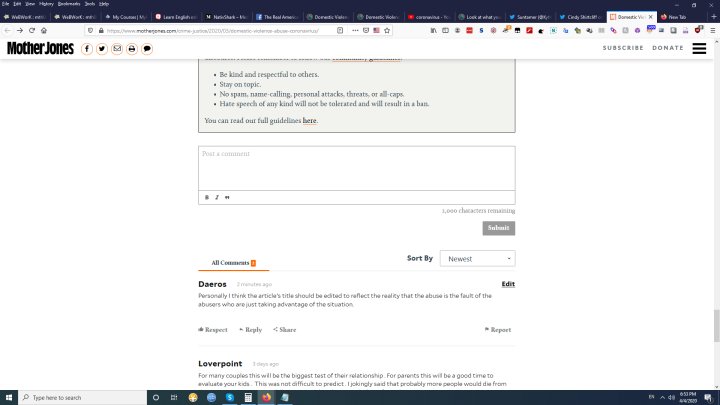 See the comment left by Daeros? That was me.
[quote]
Personally I think the article's title should be edited to reflect the reality that the abuse is the fault of the abusers who are just taking advantage of the situation. [/quote]
---
16,209 people following
Politics
Personal Stories, Advice, and Support
New Post
Politics
Associated Groups
Category Members