This post may contain Mildly Adult content.
February Is Black History Month
[b]Blackface[/b]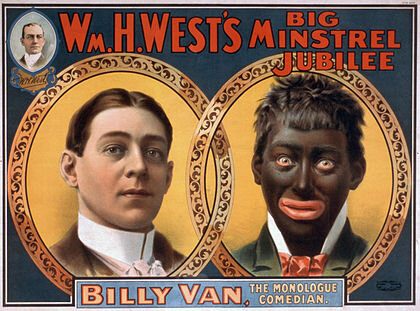 [c=000000]Blackface is a form of theatrical makeup used predominantly by non-Black people to portray a caricature of a Black person.
In the United States, the practice became common during the 19th century and contributed to the spread of racial stereotypes such as the "happy-go-lucky darky on the plantation" or the "dandified coon".[1] By the middle of the century, blackface minstrel shows had become a distinctive American artform, translating formal works such as opera into popular terms for a general audience.[2] Early in the 20th century, blackface branched off from the minstrel show and became a form in its own right.[3] In the United States, blackface declined in popularity beginning in the 1940s and into the civil rights movement of the 1950s and 1960s,[4] and was generally considered highly offensive, disrespectful, and racist by the turn of the 21st century,[5] though the practice (or similar-looking ones) continues in other countries[/c]
20th [b]century[/b]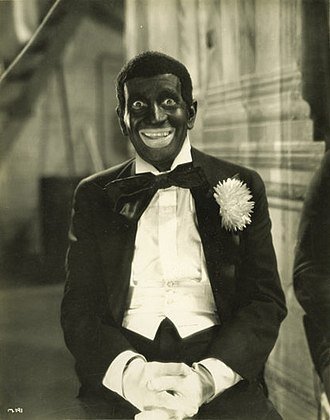 [c=000000]In the early years of film, black characters were routinely played by white people in blackface. In the first filmic adaptation of Uncle Tom's Cabin (1903), all of the major black roles were white people in blackface.[43] Even the 1914 Uncle Tom starring African-American actor Sam Lucas in the title role had a white male in blackface as Topsy.[44] D. W. Griffith's The Birth of a Nation (1915) used white people in blackface to represent all of its major black characters,[45] but reaction against the film's racism largely put an end to this practice in dramatic film roles. Thereafter, white people in blackface would appear almost exclusively in broad comedies or "ventriloquizing" blackness[46] in the context of a vaudeville or minstrel performance within a film.[47] This stands in contrast to made-up white people routinely playing Native Americans, Asians, Arabs, and so forth, for several more decades.[48]
From the 1910s up until the early 1950s, many well-known entertainers of stage and screen also performed in blackface.[49] White people who performed in blackface in film included Al Jolson,[50] Eddie Cantor,[51] Bing Crosby,[50] Fred Astaire, Buster Keaton, Joan Crawford, Irene Dunne, Doris Day, Milton Berle, William Holden, Marion Davies, Myrna Loy, Betty Grable, Dennis Morgan, Laurel and Hardy, Betty Hutton, The Three Stooges, The Marx Brothers, Mickey Rooney, Shirley Temple, Judy Garland, Donald O'Connor and Chester Morris and George E. Stone in several of the Boston Blackie films.[51] In 1936, when Orson Welles was touring his Voodoo Macbeth; the lead actor, Maurice Ellis, fell ill, so Welles stepped into the role, performing in blackface.[52]
Blackface makeup was largely eliminated even from live-action film comedy in the U.S. after the end of the 1930s, when public sensibilities regarding race were beginning to change and blackface became increasingly associated with racism and bigotry.[4] As late as the 1940s, Warner Bros. used blackface in Yankee Doodle Dandy (1942), a minstrel show sketch in This Is the Army (1943) and by casting Flora Robson as a Haitian maid in Saratoga Trunk (1945).[53] In The Spoilers (1942), John Wayne appeared in blackface and bantered in a mock accent with a black maid who mistook him for an authentic black man.
Still, the tradition did not end all at once. The radio program Amos 'n' Andy (1928–60) constituted a type of "oral blackface", in that the black characters were portrayed by white people and conformed to stage blackface stereotypes.[54] The conventions of blackface also lived on unmodified at least into the 1950s in animated theatrical cartoons. Strausbaugh estimates that roughly one-third of late 1940s MGM cartoons "included a blackface, coon, or mammy figure."[55] Bugs Bunny appeared in blackface at least as late as Southern Fried Rabbit in 1953.[56]
Singer Grace Slick was wearing blackface when her band Jefferson Airplane performed "Crown of Creation" and "Lather" at The Smothers Brothers Comedy Hour in 1968. A clip is included in a 2004 documentary Fly Jefferson Airplane, directed by Bob Sarles. In 1980, an underground film, Forbidden Zone, was released, directed by Richard Elfman and starring the band Oingo Boingo, which received controversy for blackface sequences.[57]
In 1980, the white members of UB40 appeared in blackface in their "Dream a Lie" video, while the black members appeared in whiteface to give the opposite appearance.[58]
Trading Places (1983) is a film telling the elaborate story of a commodities banker and street hustler crossing paths after being made part of a bet. The film features a scene between Eddie Murphy, Jamie Lee Curtis, Denholm Elliott, and Dan Aykroyd when they must don disguises to enter a train. Aykroyd's character puts on full blackface make-up, a dreadlocked wig and a Jamaican accent to fill the position of a Jamaican pothead. The film, being an obvious satire, has received little criticism for its use of racial and ethnic stereotype due to it mocking the ignorance of Aykroyd's character rather than black people as a whole, with Rotten Tomatoes citing it as "featuring deft interplay between Eddie Murphy and Dan Aykroyd, Trading Places is an immensely appealing social satire."[59]
Soul Man is a 1986 film featuring C. Thomas Howell as Mark Watson, a pampered rich white college graduate who uses 'tanning pills' to qualify for a scholarship to Harvard Law only available to African American students. He expects to be treated as a fellow student and instead learns the isolation of 'being black' on campus. Mark Watson later befriends and falls in love with the original candidate of the scholarship, a single mother who works as a waitress to support her education. The character later 'comes out' as white, leading to the famous defending line: "Can you blame him for the color of his skin?". Unlike Trading Places, the film was met with heavy criticism of a white man donning blackface to humanize white ignorance at the expense of African American viewers. Despite a large box office intake, it has scored low on every film critic platform. "A white man donning blackface is taboo," said Howell; "Conversation over – you can't win. But our intentions were pure: We wanted to make a funny movie that had a message about racism."[/c]
https://en.wikipedia.org/wiki/Blackface
---
1,976 people following
History
Personal Stories, Advice, and Support
New Post
Associated Groups
Forum Members