Seven people shot dead in Half Moon Bay, CA today Jan. 23, 2023
the chinese new years' dance hall shooting was evidently hard feelings because he wasn't invited.

the mushroom farm shooting may have been because someone kept eating the brown paper bag lunch he brought.
@
SusanInFlorida
The gun-nuts always leave out the very first part of the 2nd Amendment: "A well-regulated militia."
@
badminton
that phrase has caused more debate than any other part of the second amendment. apparently it wasn't even in the first draft, and was added later. That said, apparently the founding fathers ALL had flintlocks or blunderbuss shotguns, and weren't enlisted in any actual militias. My guess is that they'd have inserted something about duck hunting, deer hunting, etc if it had come up during the discussion.
remember the several 'pistol duels' between early 19th century feuding politicians? these guys weren't in any militia either, and i don't think any arrests were made or charges filed.
in any case, we need an amendment to modify the existing second amendment. its facetious to expect 30 years of overturned local laws and executive orders are magically going to be corrected by the next local ordinance.
@
SusanInFlorida
As I understand it the "well-regulated militia" clause was intended to mean the states could keep their own militias when they joined the federal union. This has evolved into the National Guard system of the present.
That's totally stupid don't be ignorant gun control laws don't work but of course people like you like to believe they do.
@
Anielka
Might as well legalize speeding, because speeders don't obey the law. Might as well legalize cheating on taxes, because tax cheats don't obey the law. Might as well legalize murder, because murderers don't obey the law. etc etc.
Wow, you've just argued that laws shouldn't exist!! Maybe when you say "that's totally stupid" you should be looking in the mirror!!!
@
ElwoodBlues
all I would see is morons like you who can't see beyond the bullshit they believe.
@
Anielka
You look in the mirror and you see morons, [b]LOL!!![/b]
you've just argued that laws shouldn't exist because people will sometimes break them, [b]ROTFL!!![/b]
God damn it. And of course, the NRA is just going to double down on their usual bullshit.
@
LordShadowfire
I think it will take huge, angry demonstrations in the streets, civil disobedience actions , and boycotts to force a change in the gun laws.
The Usual Bullsh!t: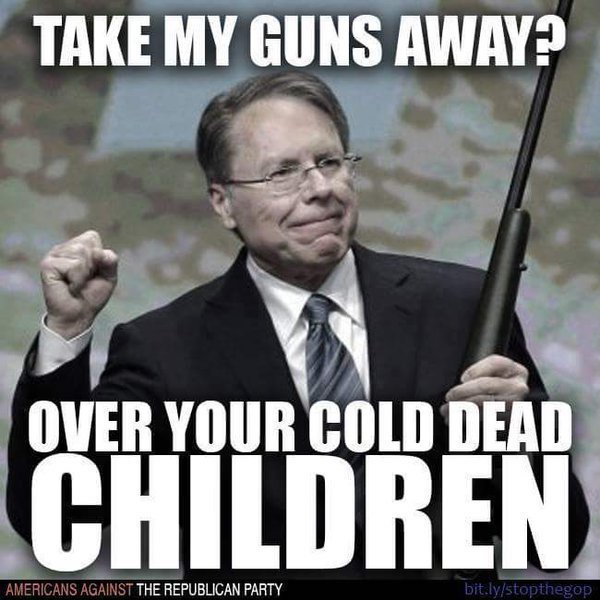 @
LordShadowfire
---
4,578 people following
News
Personal Stories, Advice, and Support
New Post
Hobbies
Movies and TV
Politics
Associated Forums
Topic Members