eugh... no more.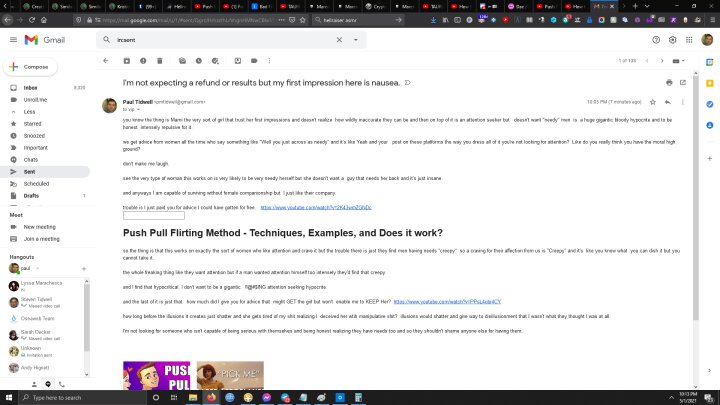 Paul Tidwell <pmtidwell@gmail.com>
10:05 PM (7 minutes ago)
to vip
you know the thing is Marni the very sort of girl that trust her first impressions and doesn't realize how wildly inaccurate they can be and then on top of it is an attention seeker but doesn't want "needy" men is a huge gigantic bloody hypocrite and to be honest intensely repulsive for it.
we get advice from women all the time who say something like "Well you just across as needy" and it's like Yeah and your post on these platforms the way you dress all of it you're not looking for attention? Like do you really think you have the moral high ground?
don't make me laugh.
see the very type of woman this works on is very likely to be very needy herself but she doesn't want a guy that needs her back and it's just insane.
and anyways I am capable of surviving without female companionship but I just like their company.
trouble is I just paid you for advice I could have gotten for free.
[youtube=https://www.youtube.com/watch?v=2K43wmZGNDc]
Push Pull Flirting Method - Techniques, Examples, and Does it work?
so the thing is that this works on exactly the sort of women who like attention and crave it but the trouble there is just they find men having needs "creepy" so a craving for their affection from us is "Creepy" and it's like you know what you can dish it but you cannot take it.
the whole freaking thing like they want attention but if a man wanted attention himself too intensely they'd find that creepy.
and I find that hypocritical. I don't want to be with or be a gigantic !!@#$ING attention seeking hypocrite.
and the last of it is just that how much did I give you for advice that might GET the girl but won't enable me to KEEP Her?
[youtube=https://www.youtube.com/watch?v=PPsL4qbr4CY]
how long before the illusions it creates just shatter and she gets tired of my shit realizing I deceived her wtih manipulative shit? illusions would shatter and give way to disillusionment that I wasn't what they thought I was at all.
I'm not looking for someone who isn't capable of being serious with themselves and being honest realizing they have needs too and so they shouldn't shame anyone else for having them.
---
42453 people following
Dating & Relationships
Personal Stories, Advice, and Support
New Post
Group Members