This post may contain Mildly Adult content.
I learn something new about myself whenever I travel farther from home. Life is better lived when you face your fears.
Sounds like you had a good time!
[@372543,Vivaci] Oh, you are a superstar. I bet you have hundreds of unread PM's and notifications. I have zero PM's most days and only a dozen or so notifications each day, and most of those are just because somebody commented on a post I had also commented on.

Oh, get some sleep.

I had a busy workweek and so had been off here for two days, to be honest. So it is a fresh experience tonight!
[@68716,JoyfulSilence] I think every woman here gets 10-15 new msgs every day...so nothing new there. 🤭 But most men would say what you said... don't take it to heart.

Yup....I'm bout to doze off....😆 Goodnight, Joy.

Hope you have fun...💕🤗
[@372543,Vivaci] Sleep soundly.

I am enjoying myself!
Hopefully you'll be able to travel again fairly soon!
[@1158409,littlepuppywantanewlife] who?
[@372543,Vivaci] the one whom I told you about. 😭
[@1158409,littlepuppywantanewlife] oh Puppy...you have to move on. You know she loves another and hasn't kept in touch with you. I wish you'd move on, my friend.
I am happy to see you are back healthy and in one piece. In due time you need to tell me more about your journey 💚
[@7972,RobinPhoenix] Thanks Robin...I'll write bout it. 😊🤗💕
[@372543,Vivaci] Can´t wait to read what you have to tell :)
[@7972,RobinPhoenix] fasten your seatbelt! 😆
[@64578,fun4us2b] heehee...that's such a cute emoji....why don't I have it? 😃
[@372543,Vivaci] I rarely use my iPad, somehow there are a few different emojis on it...
[@64578,fun4us2b] awww....oh! No wonder....🥰
[@695370,Straylight] The best part was sharing that journey with my son and my dog. Watching my dog enjoy his first long road trip, his first snowfall, and rest his motion sick head right next to my elbow when I was driving...🥴
We survived two days of snowstorm, driving through it...and Flagstaff was scary gorgeous at 6000+ feet. 😍
Clicked this the next day...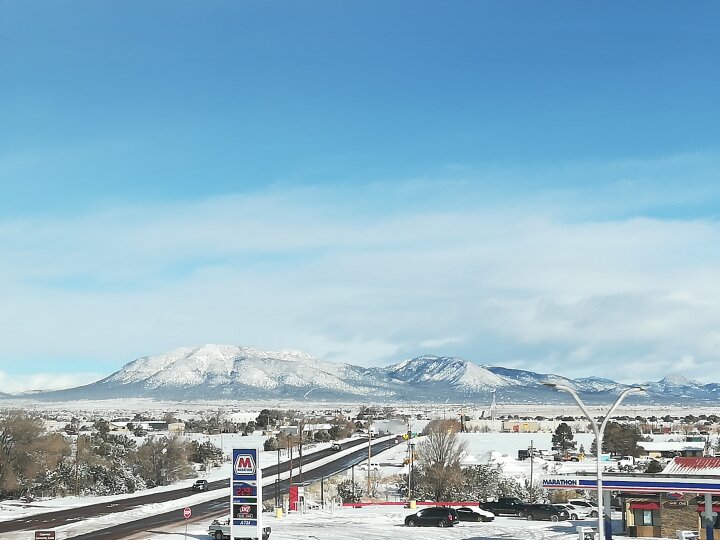 [@372543,Vivaci] Wow! What a view.
[@695370,Straylight] Thank you...🤗💕 I'll share some more pics from my iPad in a couple of days, Stray. It was stellar...🤩
---
24 people following
I Love To Travel -
Personal Stories, Advice, and Support
Group Members