The Golden Hand
[center]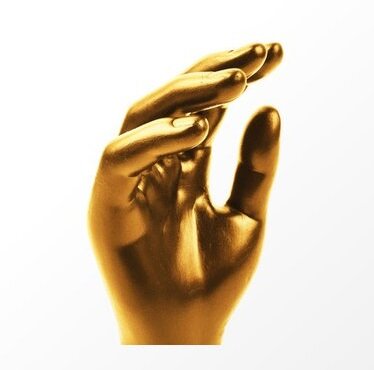 There was once a little girl named Eliza who was born with only one hand. She was a sweet little girl and everyone loved her.
Eliza grew up to be a very intelligent and beautiful woman. None of the men in town seemed interested in her or asked for her "hand" in marriage.
Eliza's heart was broken. She thought she would never find love.
Then one day, she met a handsome and wealthy man named Mark. They feel in love at first sight.
Not long after, Mark asked Eliza to marry him. "Yes, I will!" Eliza replied. The wedding was like something out of a fairy tale. No one had ever seen such a beautiful day!
Instead of giving Eliza a gold ring, he gave her a gorgeous golden hand.
The Golden Hand fit perfectly! Now Eliza had a complete hand and it was beautiful. Eliza and Mark were as happy as could be.
But then, tragedy struck...Eliza felt terribly ill!
Eliza changed completely over a period of time. She became cruel and screamed at Mark at every chance she got.
All she ever talked about was her Golden Hand. Mark knew that she loved the hand more than she loved him.
She always made him promise that once she died, he would bury her with her Golden Hand. Of course, he had to respect her wishes.
When Eliza passed away, Mark's heart was broken. He buried her with her Golden Hand just as he had promised.
However, Mark's bad luck continued: his factory burned down and his crops fell to ruins. He was now poor.
The bankers came and told him that they were taking his house and land. Mark had to do something...but what?
He painfully decided to "borrow" Eliza's Golden Hand. He dug her up and took the Golden Hand. Mark sold the hand and paid the Bank.
The Goldsmith melted the hand and made many different things with the gold.
That very night, Mark couldn't sleep. He thought he heard Eliza's voice in the wind.
She seemed to be saying: "Where's my Golden Hand? the voice was getting closer and closer. The voice was just outside the door! "Mark...where's my Golden Hand?" the voice demanded, angrily!
BOOM! The door flew open and Eliza's ghost came floating in! She was pale with red, glowing eyes. "Where's my Golden Hand!? she screamed! Mark tried to explain that he had to borrow it...but he promises he would make her a new one.
"I don't want a new one! I want MINE!" she screamed louder in anger. He explained to her that The Goldsmith had melted the hand down so she wasn't able to get it back...
Eliza shrieked and flew over to Mark. She grabbed him by the neck and dragged him back to her grave.
No one ever saw or heard from Mark again...
They say that Eliza is still roaming the earth, looking for every drop of her Golden Hand.
As far as we know that gold is found in many different electrical devices like phones, computers, or tablets.
Who knows? Maybe some of Eliza's Golden Hand could be in YOUR phone, computer, or tablet?
You never know...but you MIGHT find out soon!!!
[/center]
---
476 people following
I Write
Personal Stories, Advice, and Support
Group Members