Racist my ass . That's all you libs can claim when the law catches up with your voter fraud schemes . In a nutshell these are the facts .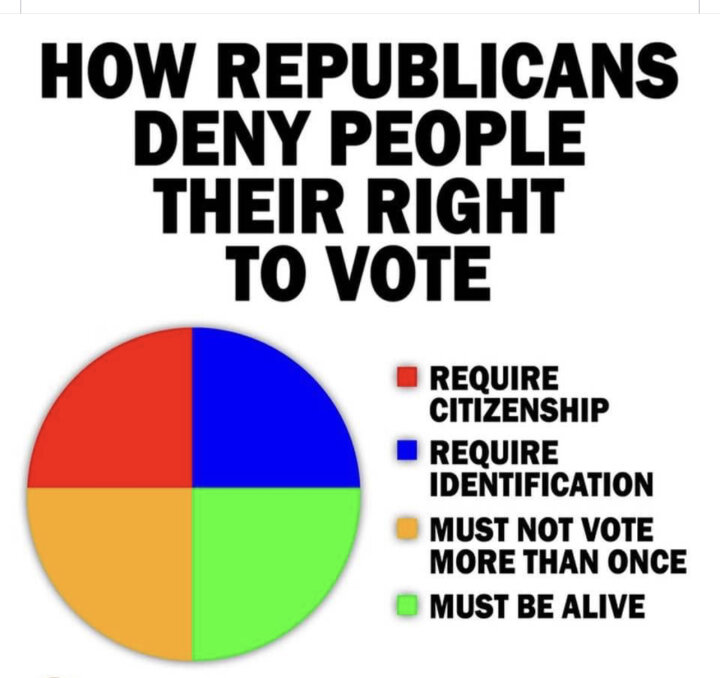 If you can't do even one of these …your fraudulent votes don't count . 🤷🏻‍♀️. An unverifiable vote is a fraudulent vote. I'm so glad you moved 🤠
[@113373,TexChik] you have to see the video. i will look for it
[@1140188,Candie] I don't need to see a liberal propaganda video to know libs don't like not being able to cheat or that they can't win a fair election. Texas is a great state . Don't listen to propaganda .
Not sure how eliminating 24hr voting locations is a racist act, or more verification of citizenship if you're mailing In a ballot. I mail my Ballot in and if they require me to do more verification of my citizenship, I'll gladly comply to continue to not have to go to a voting station. That's not racism at all. That's just good accountability making sure I am, who I say I am. I am totally cool with that.
[@1143040,Iwillwait] [@113373,TexChik] yeah, that's sad that those votes went missing. We need to fix that too.
[@1140188,Candie] Well.. obviously there's an issue. We have ghosts voting and missing ballots, so, yes, there is some changing we need to do.
[@1140188,Candie] voter regulations are not racist
It is a shame. The votes of deceased white voters are counted, but not those of deceased brown or black voters. It is disgusting.
This message was deleted by its author.
Still waiting on the actual and verifiable evidence of racism here.
[@573519,PrivateHell] i cant find the video. there was an interview between two women "explaining" the voter bill. the one on the left had blonde hair and teh one on the right i think was brunette
geez.. how complicated can it be to make some proper voting laws... BSA... Banana States of America
[@328911,Madgirl] the more complicated they make it the easier for fraud
[@1344,pdockal] well the usa is the only western country that has these problems... its not rocket science.
[@328911,Madgirl] really ... only country with issues regarding voting
Because it's a state full of nice people but also rednecks.
So a voter shows up with I'd or votes by mail. Sounds horrible.
---
165 people following
News
Personal Stories, Advice, and Support New Post
Associated Groups
Category Members